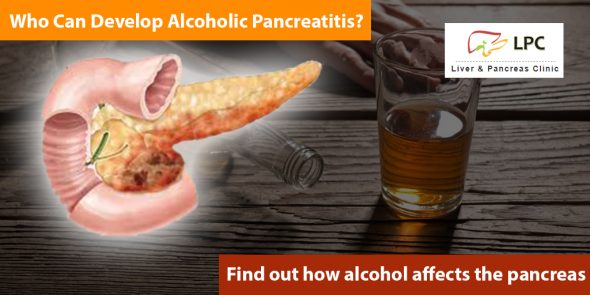 Alcoholic Pancreatitis – Who Can Develop Alcoholic Pancreatitis?
Most commonly, the disease develops in patients whose alcohol ingestion is habitual over 5-15 years. Alcoholics are usually admitted with an acute exacerbation of chronic pancreatitis. Occasionally, however, acute pancreatitis can develop in a patient with a weekend binging habit, or a sole large alcohol load can precipitate a first attack. Nevertheless, the alcoholic who imbibes routinely remains the rule rather than the exception.
How Does Alcohol Cause Pancreatitis?
It is not known how alcohol causes acute pancreatitis, though many theories are postulated. Also, there is no universally accepted explanation for why certain alcoholics are more predisposed to developing acute pancreatitis than others who ingest similar quantities. Suffice to say some people have a pancreas, which is more sensitive to the effects of alcohol. These people develop attacks of acute pancreatitis a few hours or 1-2 days after they have been drinking alcohol. Often the sensitivity only develops after they have been drinking for several years. Such people may only be drinking a moderate amount of alcohol (not 'heavy' drinkers) and have actually developed chronic pancreatitis, which leads to intermittent acute attacks.
Other people who are much heavier drinkers may never develop acute pancreatitis but instead develop liver cirrhosis. Some patients who drink alcohol in moderate amounts never develop either acute pancreatitis or liver cirrhosis.
Is It Mandatory To Stop Alcohol For Patients With Alcoholic Pancreatitis?
If alcohol is the cause of your acute pancreatitis, it is essential that you stop all future alcohol drinking. Non-alcoholic drinks mimicking wine or beer are now reasonable substitutes. Low- alcoholic (LA) drinks should also be avoided however.
Click here to read detail article on Chronic Pancreatitis.
---
Facing a serious diagnosis or major procedure can be overwhelming. Get peace of mind. Before getting treatment, get an expert opinion – so you know all your options. That's where we can help.
For Consultation Available At: Lilavati Hospital
Monday To Friday – 9am To 5pm & Saturday 9am To 2pm (Consultation Only by Appointment)
Call on: 09821046391 (Dr. DR. Kulkarni) or Book Online