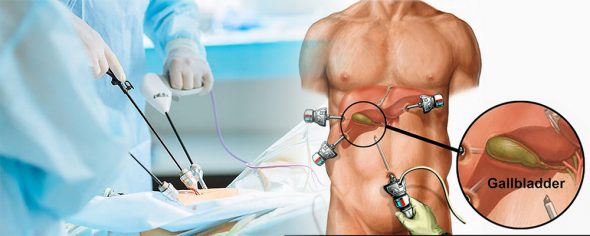 Laparoscopic Gallbladder Surgery for Gallstones
What Is Laparoscopy?
Laparoscopy, or "keyhole" surgery, enables the surgeon to inspect the inside of the abdomen, without having to make a large cut. A laparoscope is a long, narrow telescope attached to a small video camera and a light. It provides a view of the inside of the abdomen on a TV monitor for the surgeon and other team members.
How Is Laparoscopic Cholecystectomy Performed?
Laparoscopic cholecystectomy is complete removal of the gallbladder by keyhole surgery, without a big cut. A small incision 2 to 3 cm long is made at the navel and the laparoscope is inserted. The surgeon inflates the abdomen with carbon dioxide, a harmless gas, to provide room for the surgery to be performed. Two small cuts 0.5 to 1 cm in size are made below the right rib margin. A fourth cut is in the upper abdomen close to the breastbone. These are used for inserting instruments, such as scissors and forceps, which can pick up and cut tissues. Surgical clips are placed on the duct and artery leading to the gallbladder in order to secure these structures against leakage or bleeding. The gallbladder is removed from inside the abdomen through one of the cuts in a specimen bag. This cut may need to be enlarged slightly if the gallstones are large.
It is sometimes necessary to take an X-ray of the bile duct during the operation. This is performed if there is some doubt that you may have a stone in the bile duct.
The surgery normally takes 30 to 90 minutes, depending on the size of the gallbladder, how inflamed it is, and the difficulty of the operation.
What Are The Benefits Of Laparoscopic or Keyhole Surgery?
The advantages to you of having your gallbladder removed by the laparoscopic method are:
Reduced pain and ease of recovery after surgery
Less pain medication required
Shorter hospital stay
Earlier return to full activity and work
Less visible abdominal scars
What Are The Possible Risks And Complications?
Laparoscopic cholecystectomy offers substantial advantages over open cholecystectomy. While the likelihood of major complications is very low, certain risks do exist. These risks may be higher in your case, if you have serious medical problems that increase the risks of general anaesthesia. Most of these risks are also present with the open method of cholecystectomy. A few complications, such as bile duct injury, may be slightly more common after laparoscopic surgery. The possible complications include:
Those related to general anaesthesia, including the rare incidence of death
Bleeding
Infection
Blood clots forming in the legs
Leakage of bile from the bile ducts into the abdomen (about 1 in100 patients)
Injury to the bile duct, which usually needs repair (about 1 in 200patients)
Injury to abdominal organs (about 1 in 1000 patients)
Click here to Learn more: Gallstones: Causes, Risks, Diet, Treatment & More
---
Dr. D.R. Kulkarni is the best gallbladder surgeon in Mumbai, India. For most advanced laparoscopic gallbladder surgery at affordable cost. Call Now : 09821046391 | learn more: http://www.liverandpancreasclinic.com/liver-pancreas-surgeon.php
For Consultation Available At:
Lilavati Hospital and Research Centre, Mumbai, India:
Timing: Monday To Friday – 9am To 5pm & Saturday 9am To 2pm
(Consultation Only by Appointment)
Hinduja Hospital, Mumbai, ( Hinduja healthcare, Khar, Mumbai):
Timing: Thursday 4pm To 6pm, Saturday 10am To 12pm
(Consultation Only by Appointment)
Asian Cancer Institute, Sion, Mumbai:
Timing: Tuesday & Friday – 5pm To 7pm
(Consultation Only by Appointment)
Asian Cancer Institute, Cumballa Hill, Mumbai:
Timing: Saturday 9am To 10am
(Consultation Only by Appointment)
Guru Nanak Hospital, Bandra, Mumbai
Timing: Wednesday 4pm To 6pm & Saturday 2pm To 4pm
(Consultation Only by Appointment)